Psychic Blog
Ribbon Reading - Part 2
15 Apr 2016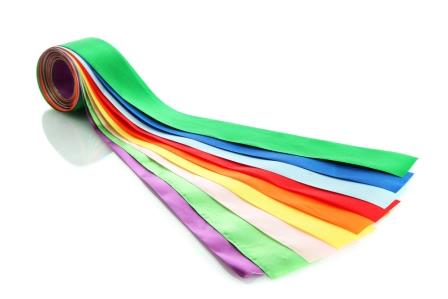 In the first part of our Ribbon Reading article we explored colours – Silver, Blue Red and striped ribbon. If you missed the first part then click here first.
Now we explore the remaining colours and their meanings:
Yellow:
You put people at their ease, you are funny, creative, social, happy and a great communicator – these skills will carry you well in life and in work. Make sure you give yourself chance to breathe – take a minute before always replying 'yes'.
Spots:
You can be disorganised, but your life is balanced. You are a go-getter, wanting to experience everything now…But watch out as budgeting is not your forte, and being bad with money will hinder your dreams.
White:
You can find life draining; you yearn for a time when things were simpler with less technology and not so hectic. Manage what you can, carve out a little bit of heaven for yourself – sewing, doing jigsaws, baking – whatever makes you happy and learn to let the rest go…
Green:
People turn to you which is great – but be careful to not take on everyone else's problems. Carve out time for yourself, in the great outdoors would be perfect as this is where you are happiest.
Pink:
People would probably not describe you as optimistic; but that's okay – people trust you because of it. You can be emotional – just learn that you can't solve all of your problems alone, accept help and support from others for a happier life.
Black:
You are a very insightful person – learn to trust your intuition! Black can represent emotional upheaval, but also a need to be nurtured and protected. Don't try to run away from your emotions, let them take their natural course; things will come good in the end.
Purple:
Others may be drawn to you, but you are just fine by yourself, you are self-confident with a real zing in your step. You will naturally care and look after those who really need it, otherwise take your zest for life and enjoy!
Orange:
You can be indulgent and this has led to some bad habits! Embrace the aspects for the right reasons – for example work hard, but don't be a workaholic…Accept that you cannot take up every opportunity, but more will come and you will be ready when they do if you don't burn the candle at both ends.
Tweet
Browse Our Blog
Categories
Latest Posts