Psychic Blog
Archangel Ariel
29 Jan 2014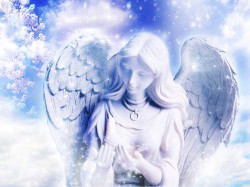 Who is Ariel?
Archangel Ariel is known as the angel of nature. The name Ariel comes from the Hebrew translation, meaning 'Lion or Lioness of God', also a synonym for bravery and courage. Ariel is thought to be in charge of the earth, air, crystals, animals, the nature realms, and all things earthly.
Her virtues are thought to include courage, focus, healing, and awakening.
What Does She do?
Ariel is very involved with healing and protecting nature. From maintaining healthy environments near oceans, lakes and rivers to healing and protecting animals, fish, and birds, Ariel is an ally toward our conservation of the natural world.
Ariel invites us to go outside and encourages us to spend time within our natural surroundings. She reminds us that there is a magical healing energy found in Nature that is restorative and rejuvenating to our body, mind and spirit. Soothing, refreshing and inspiring, simply spending time in nature has the ability to clear our perspective, providing a new and positive outlook on life.
When to Call Upon Ariel
Call upon Ariel for angelic assistance regarding any issues relating to animals, (including both wild animals and pets) and/or conservation.
Archangel Ariel can also assist you in releasing, healing and transcending fear-based beliefs and thought patterns. She offers to help us consciously focus and direct the creative power of our thoughts, words, emotions, beliefs, intentions, etc. with that which we actually desire to create and experience.
How to Call Upon Ariel
Archangel Ariel will gladly answer any call or prayer. The simplest method is to call upon Archangel Ariel when you feel guided, but especially outdoors surrounded by nature. However if it feels more comfortable, Ariel will gladly answer a call or prayer for assistance, at anytime from any place.
Bear in mind to thank Archangel Ariel and the divine for their assistance.
How Does She Appear?
Archangel Ariel is associated with rainbow colours and shades of pale pink. Seeing pink light nearby might alert you to Ariel's presence. You may want to use pink quartz to resonate with Ariel's energy.
It is believed that Ariel sometimes communicates with people by using her namesake animal, the lion. If you see images or feel lions or lionesses near you this may be a sign that she is with you.
Tweet
Browse Our Blog
Categories
Latest Posts