Psychic Blog
Angels: Call on their Magic + Springtime Offer
2 Apr 2020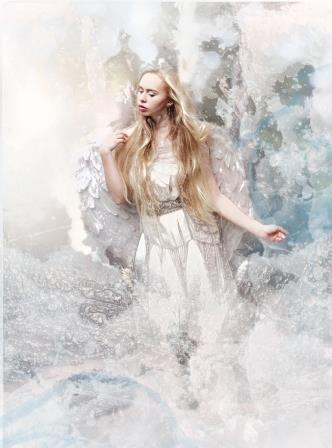 Today we are exploring angels Ariel & Jophiel, the perfect sprintime angelic beings.
Archangel Ariel
Ariel is the perfect angel to summon in spring. Although often associated with lions due to Ariel meaning 'lion of God' in Hebrew. Ariel is actually connected to the Earth, nature, the wind, the environment, waterways, wild animals and conservation.
If you are looking for new ways to be 'greener', are wanting to get involved in a conservation project locally, or even want help growing things in your garden – Ariel is one of the perfect angels to offer guidance.
Ariel is also responsible for the communication between humans and the elemental world, from elves and gnomes to fairies. Perhaps whilst in your garden, or on a forest walk, you can take a moment to close your eyes. Feel the breeze, and rustle of trees around you. As you open your eyes, maybe you see insects fluttering – or maybe they are divine sprites, ready to conjure some mischief. Why not ask Ariel to disperse these lovely elementals all over the world, to all of the places that need special healing!
Archangel Jophiel
Jophiel is another great springtime angel, governing the yellow ray of illumination. Helping us to see the beauty in all things. This Archangel watches over wisdom, spiritual enlightenment, and gets us to answers for the most important life questions.
If you have children going through mock exams, then calling on this angel for support can help when studying and preparing for exams or tests. At the same time offering positive thinking, and ways through the up's/downs of everyday life.
If you feel like doing some spring-cleaning, a spot of decluttering, or even decorating, then Jophiel is a great angel to call upon. Let Jophiel's bright ray of light punctuate your crown chakra, so you can lighten even the darkest corners of both your home and life – physically and literally!
Spring Offer
If you want to seek the advice of angels, don't forget that our Special Spring Offer is up and running – connect with one of our Readers now…
For the rest of March and the whole of April 2020 a 20-minute credit card reading will cost just £27.95.
Saving you £5.00 on every call!
To use the offer, call Freephone: 0808 156 4933 & Quote 'SPRING 20'
You can use the discount code as many times as you like during the offer period.
See which readers are available NOW!
The offer is available 9am – Midnight until 30th April 2020. £27.95 for the first 20 minutes, £1.50 per minute thereafter. At all other times the cost will revert to normal: £32.95 for the first 20 minutes, £1.50 per minute thereafter. All calls are recorded. Readings are for entertainment only. 18+ or over. Customer Care: 0808 156 0022.
Tweet
Browse Our Blog
Categories
Latest Posts