Psychic Blog
The Psychic Gift – Summer Offer
19 May 2017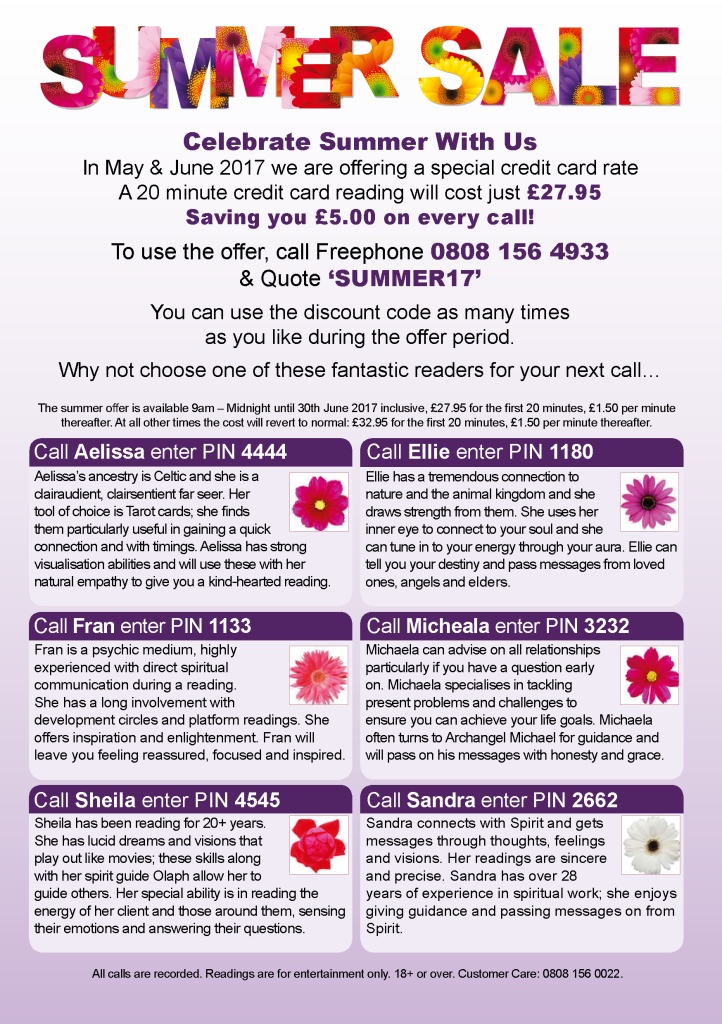 Celebrate summertime with us! From now until the end of June 17 we are offering all of our clients a special credit card rate.
During the offer period you will pay £27.95 for a 20 minute credit card reading, which is a saving of £5 on every call, and you can really benefit as the offer is a not a one off, you can use the discount code as many times as your like…
When you want to use the offer, call Freephone: 0808 156 4933, you will speak to a receptionist – tell them the reader you want and quote the offer discount code: 'SUMMER17'.
The offer is applicable across our whole reading team; you can turn to 'Our Psychic Team' page to assist you in deciding which reader to choose.
For example you might choose one of the following psychics/mediums:
Aelissa – PIN: 4444 – She has strong visualisation abilities, is a natural empath and loves Tarot.
Ellie – PIN: 1180 – She draws from the animal kingdom and uses her inner eye to connect.
Fran – PIN: 1133 – She is a highly experienced medium who provides inspiration and enlightenment.
Michaela – PIN: 3232 – She knows what it's like to have your life turned upside down, she will show you the way forward.
Sheila – PIN: 4545 – She uses her Spirt Guide, lucid dreams and visions to sense your emotions and answer your questions.
Sandra – PIN: 2662 – She is very experienced with a great connection to Spirit; she will pass on messages and guidance.
Whatever your reason for calling: Bereavement, relationship difficulties, wellbeing… We have a reader that can support and guide you. We do hope you call and take advantage of the offer whilst it's on.
Terms of the Offer
You can use the offer between 9am and Midnight on a daily basis until the 30th June 2017 inclusive.
The offer cost is £27.95 for the first 20 minutes and £1.50 per minute thereafter.
The cost outside of the offer times will be £32.95 for the first 20 minutes and £1.50 per minute thereafter.
Readings are for entertainment only. 18+ or over. All calls are recorded. Customer Care: 0808 156 0022.
Tweet
Browse Our Blog
Categories
Latest Posts