Psychic Blog
The First Female Doctor!
19 Jan 2018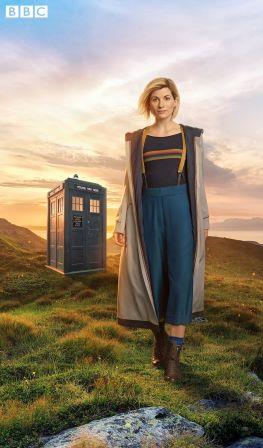 No doubt if you are a Doctor Who fan, you will have already seen the Christmas special 'Twice Upon A Time' that will have shown the regeneration of the Time Lord played by Peter Capaldi, and at the same time change gender to welcome in the new and 13th Doctor played by our cover star Jodie Whittaker.
So, what do we know about the new series, and what changes will it bring with a female Doctor?
Outfit
Obviously as a female, the Doctors outfit will be different to previous, but judging from the press picture (opposite), it is in keeping with the Doctor's eccentricities. It is colourful, and there are many aspects from the braces, boots, high waisted trousers, coat and stripes that are a nod to previous Doctors styles.
Cast
Jodie will work alongside a new team – Bradley Walsh as Graham, Tosin Cole as Ryan and Mandip Gill as Yasmin will form the regular cast as well as Sharon D Clarke who has a returning role.
The Tardis
As is only fitting The Tardis has had a refresh for the new series: It looks as if the Tardis has gone back to a more muted shade with a distressed style, as opposed to the more recent bright blue. It would appear that the St John's Ambulance sign has got the chop. The Free for Use Public sign is now white letters on a black background. The door handle is a slightly different design and has moved. The windows have lost their white paint job. (This is mainly speculation from press images, so we will have to wait and see…)
Episodes
It is thought there will be ten episodes each 50-minutes in length, but possibly with the first episode being a full 60-minutes so that the new characters can be introduced and fully explored.
First Scene
As you might expect as the Doctor has changed from male to female, the first scene has to deal with that regeneration and the reaction to a new female appearance
Tweet
Browse Our Blog
Categories
Latest Posts