Psychic Blog
How To Settle Your Pets Into Your New Home
15 Nov 2011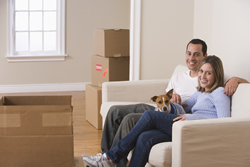 Spring/summer time is traditionally a period where there is lots of house selling and buying; even though we are in recessionary times some people will have to move house. Worrying about how to settle your pets in to your chosen new home can be a concern during an already stressful time.
Animals are highly intuitive – so the first things is to be absolutely sure the house move is the right decision. Once you are happy it will be a lot easier to reassure your pets.
Then the next step is to actually sit down and talk with your pet – I'm sure you talk to your dog, cat or even fish all of the time without thinking, but this time make a conscious effort to tell your pet what will be happening. All the time imagining your pet in their new surroundings, the two of you playing in a bigger garden perhaps, or maybe where you will place their bed in the new property. Your calm and positive energy will transfer to your pet and will allow moving day to run smoother.
On a practical level make sure you pack a separate box marked with your pets name, giving you easy access to all of their things – beds, toys, food, leads and so on. This will allow things to stay separate to the rest of the items and give you quick access for settling them in.
Tweet
Browse Our Blog
Categories
Latest Posts