Psychic Blog
Archangel Raphael
20 Dec 2013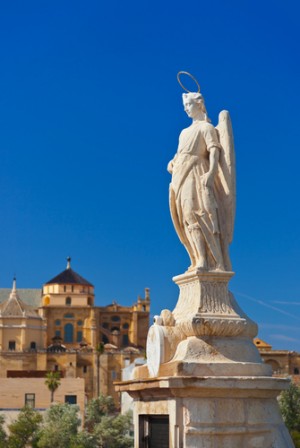 This month we will be exploring Archangel Raphael, the patron of healers and those who need healing.
Raphael, who's name means "God heals" or "He who heals" in Hebrew, is chiefly responsible to support, heal and guide us in matters regarding health.
Anytime you call upon Raphael, he will be there. This healing archangel isn't shy or subtle in announcing his presence.  He wants you to know that he's with you, as a way of comforting you and alleviating stress along your way to a healthy recovery.
For this reason, many people call upon Raphael when they are ill or in the midst of a serious issue or problem and need guidance. We are frequently vulnerable to thoughts that can blow small problems completely out of proportion, making them seem hard to overcome.
Raphael reminds us that it is not up to us to face these problems alone, as it is his duty to guide us through the healing process. When you call upon Raphael it is best to be open to how his assistance will appear and release any expectations you may have of how the experience will go.
Archangel Raphael's colour is that of emerald green. Many reports of people calling upon Raphael have told of bright green light, with emerald surrounding the person or area that needs healing. The light can be in the form or sparkles, flashes or waterfalls of colour. He knows that if he announces his presence through his glowing green light, you'll immediately relax and begin to feel the healing effects.
Sometime Raphael may appear to us in our dreams. While we are asleep our minds are much more open to sending and receiving angelic messages. If you have a dream time encounter with Raphael it is likely that you'll remember your dream, and his emerald light will resonate with you long after you wake up.
Incorporate green crystals into meditation to resonate strongly with Raphael. Malachite, Peridot, and Green Tourmaline all connect with the healing energy of Archangel Raphael.
We can call on Archangel Raphael whenever we need his help to release physical, emotional, mental, spiritual pain from our minds and our bodies. Raphael is waiting to help—all we need to do is ask.
If you're looking to connect over the festive period, follow your guardian angels guidance, listen to your inner-selves, use readings for extra support and advice and let them be useful to you.
The Psychic Gift are on hand to advise you.
Tweet
Browse Our Blog
Categories
Latest Posts