Psychic Blog
Be An Angel - Clear That Clutter
27 Jun 2014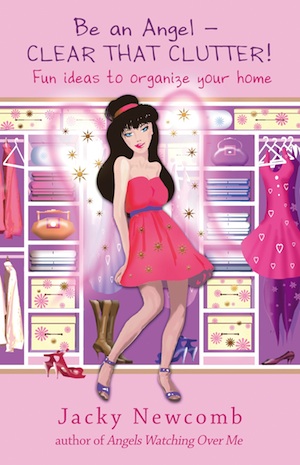 Be An Angel – Clear That Clutter: Fun Ideas to Organize Your Home  by Jacky Newcomb
Spring is often a great time to have a bit of a clean and tidy around the home; the clocks have gone forward, the nights are now longer and if we are lucky it is time to pack away our winter wardrobes and welcome our summer clothes. If however your wardrobe or just general storage systems have gone a bit awry then Jacky Newcomb's book – Be An Angel – Clear that Clutter could provide just the help you need.
Jacky Newcomb is a columnist for Take-a-Break's 'Fate & Fortune' magazine, and the best-selling author of numerous books about real-life Guardian Angel and Afterlife encounters. This is her first book on Clutter Clearing. Jacky has been featured in the Daily Mail, Daily Mirror and Daily Express and made numerous TV appearances including ITV's This Morning and Channel 5 Live.
Jacky says "Growing up in a small English village with my parents and sisters I was always interested in magical things. My favourite programmes were Bewitched, the fantasy comedy about Sabrina the wand-waving witch, and Randle and Hopkirk (deceased); a drama about a private detective and his best-friend-helper now working alongside him as a ghost. As a teenager I was reading the classic 'Life after Life' by Dr Raymond Moody, and the books by the famous medium Doris Stokes."
Now Jacky has turned her attention to clearing the clutter; she longed to live in an oasis of calm, and the book charts her journey from clutter to clarity and all of the crazy steps in-between!
"The inspirational ideas in this book will have you organizing your home even before you finish the first chapter. You're welcome to have a good giggle at my expense while you do so"!
In the book Jacky covers how to:
Organize and declutter your home, in the 'spare time' between TV programmes
Spot the difference between objects that are 'one night stands' and 'marriage material
Deal with unwanted gifts and inherited 'treasures'
Make money from your unwanted stuff
Inspire family members to de-junk too
Live like a VIP every day
Add spiritual touches to bring peace back to your place
Stay tidy-ish forever
New Spirit Journal says about the book:
"If decluttering is on your to-do list, Be an Angel: Clear That Clutter, by Jacky Newcomb could be your new best friend. Using humour and stories of her own decluttering processes, this little book is full of ways to get started and continue on the journey of letting go of what we do not need and organising what we decide to keep. Secret hoarders and just-a-little-messy folks will find what they need to make permanent changes in how they deal with stuff". 
Tweet
Browse Our Blog
Categories
Latest Posts