Psychic Blog
Zodiac Inspired Fashion
10 Apr 2015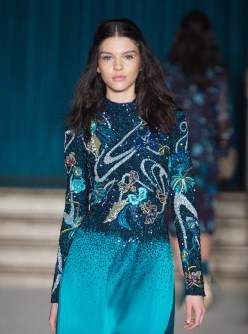 At London Fashion Week designer Matthew Williamson unveiled an Autumn/Winter 15 collection inspired by the twelve signs of the zodiac.
Matthew allowed the mystical properties and the symbolism of the astrological system of star signs to influence the design process for his latest body of work. Astronomy has influenced everything from the print, colours, embroidery and the shapes to inspire a beautiful and luxurious set of designs.
The unique shape of Pisces can be seen in the curve of a draped dress, whilst the rich colours of the clothes have been heavily influenced by the jewels of birthstones, from garnet to jade to sapphire and amethyst. Birth flowers can be seen along with zodiac creatures in the folk prints. Horoscope symbols provide a narrative throughout the whole collection, the mystical elements of the etched prints and thread work take on an eighteenth century costume vibe.
Matthew as always had is eye on who would wear the outfits: 'The aesthetic embodies the bohemian Brit girl.'
Williamson's designs may be out of reach to many of us, but often successful catwalk themes filter down to the high street, so come Autumn15 it is likely we could all be wearing zodiac inspired clothes!
If you are interested in astrology then don't forget that we load up in-depth horoscopes every month on to The Psychic Gift website written by our resident Astrologer Carol Day. Carol has many years' experience and she will give you a detailed view of the month ahead including particularly lucky dates for you so you can plan ahead.
Photo Credit: Mitchell Sams – www.matthewwilliamson.com
Tweet
Browse Our Blog
Categories
Latest Posts