Psychic Blog
Winter Foods
18 Jan 2019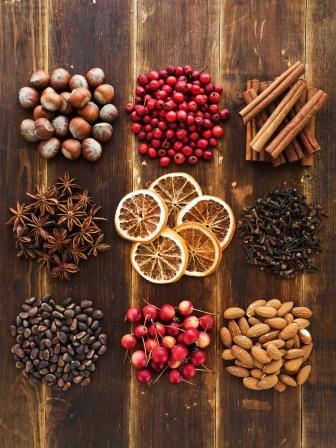 There is no doubt that there is a bounty of food available at this time of year. It is very easy to over indulge during the Christmas period, but January brings with it a sense of renewal and often with us wanting to take a look at our health and eating habits.
You may have been gifted some foods, or have leftovers from recipes that you have tried over the festive period. Many of these seasonal goods have fantastic health benefits as well as being tasty.
Why not try and incorporate some of these nutritional powerhouses in to your New Year diet?
Cranberries can be used fresh or dry, traditionally we think of cranberries as a sauce to accompany turkey, but they can also be used for a compote in porridge, or added to pancake and muffin batters. They have an anti-inflammatory benefit and are a type of antioxidant, they also help protect heart health.
Allspice may end up in a chilli, or perhaps a gingerbread cake, the spice is both fragrant and warm, that smells like cloves. It has antiseptic properties and is great for encouraging digestion.
Cinnamon might be sprinkled on coffee, added to mulled wine, topped on cereal, or baked into buns and cookies. It is sweet and fragrant, and you may have it dried as a powder or in stick form. It is great for colds, indigestion, circulation and at lowering blood sugar levels.
Winter Vegetables like Broccoli, Brussels Sprouts, Cabbage, Kale and Cauliflower thrive in the cold weather. They are rich in antioxidants and vitamins, which help to keep pesky winter bugs at bay. For the best taste cook them quickly, this will retain their bright taste and nutrients, the longer they are cooked the more likely they will develop the bitter taste and sulphur smell.
Pears – Commice, Concorde and Conference are all in season, they can be eaten plain just as a snack, poached in wine for a decadent dessert or added to tarts or cheeseboards. This is another food that aids digestion, has good fibre and vitamin C levels.
Dates are often bought and not eaten, but they make a great snack, you can add them to baked goods in place of sugar, you can stuff them with cheese and wrap in bacon – there are lots of possibilities. They are high in fibre, they support blood sugar control, they are packed with disease fighting antioxidants and may help brain health.
This is just a small selection of nutritious foods and spices available, but you also won't go wrong with nuts, parsnips, clementine's, cloves, goose, star anise, chestnuts, apples, pomegranate, ginger, plaice and nutmeg to name a few, all seasonal at this time of year to name a few…
Tweet
Browse Our Blog
Categories
Latest Posts