Psychic Blog
Winchester: The House That Ghosts Built
1 Feb 2018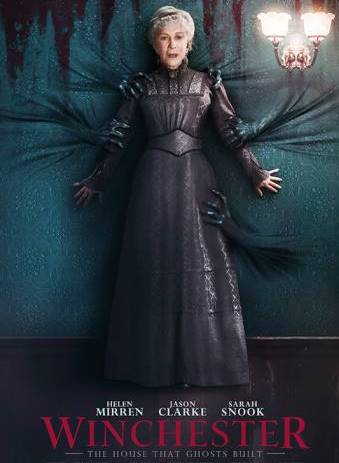 The Story
Helen Mirren plays the character of Sarah Winchester, she is an heiress to a firearms business. The film is supernatural in basis, and Sarah builds a mansion of massive proportions in order to imprison souls of gun victims, whom she believes were killed by her father's rifles, and that she thinks are haunting her.
Following the death of her husband and child and falling into a dark and murky depression, Sarah begins to believe that both her family and company fortune are cursed.
When she expresses her concern to others that she is being haunted, she is branded senile, and as such she takes matters in to her own hands. With money not being a problem, and on the advice of a medium she builds a seven-story mansion to trap the ghosts that won't leave her alone, and that she believes wish to take vengeance.
The mediums advice stated that she needed to move to California and construct the house, but with one caveat that construction must never be halted, so, it becomes an incessant twenty-four hours a day, seven days a week mania for decades, until the mansion contains hundreds of rooms.
Jason Clarke who plays character Eric Price (a psychiatrist) is summoned to the house fearing for her mental health, at first wholeheartedly believing that her apparitions of the paranormal variety must be a figment of her imagination. That is until he himself witnesses unusual goings on!
History
The film is actually inspired by true events, the most haunted house in the world sits on an isolated stretch of land in San Jose, California. You can actually visit the house, that now acts as somewhat of a tourist attraction. It was allegedly under construction for thirty-eight years, and had 13 bathrooms, 9 kitchens and 10000 windows! www.winchestermysteryhouse.com/
Some of the films scenes were shot at the actual house, but most of it was done it Australia. As you'll notice from the images, the film is set back in time, as the movie is based on the American heiress in the 19th century as a grieving widow dressed all in black.
The film is due to be released in the UK on 2nd February 2018.
Image courtesy of Lionsgate / CBS Films
Tweet
Browse Our Blog
Categories
Latest Posts