Psychic Blog
What Men Want
18 Mar 2019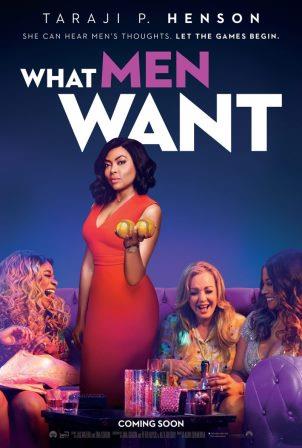 If you cast your mind back to the year 2000, do you remember a film called 'What Women Want', a romantic comedy by Nancy Meyers starring Mel Gibson?
Well, fast forward to 2019 and we have a reboot of the film, called 'What Men Want'.
As the title suggests there is a gender switch. The starring role this time is played by Taraji P. Henson, but the basic premise of the film is the same.
The Story…
Henson plays the role of Ali Davis, she is a female sports agent, specialising in boxing and as such works in a very male dominated area. Unfortunately, she is often shunned by her male counterparts and she is struggling to get ahead at work, despite being really good at what she does. If you watch the film trailer you can see that the final straw comes for her when a male co-worker is promoted instead of her.
Ali picks herself up and goes out with her friends, first stop is a visit to a psychic, she drinks a tea made by the clairvoyant that amongst other things is laced with cannabis. A wild night follows, which includes a trip on the dance floor and a nasty bump to the head. Fast forward to her waking up in hospital and quickly realising that she is hearing all men's conversations – not just what they say out loud to her, but their inner-thoughts as well!
At work, Ali's next big quest is to sign an NBA superstar – before anyone else! So, she decides to embrace her new-found skill, and treat it as a 'gift' and not a 'curse'. Of course, unleashing this superpower is not without its difficulties, including putting both her friendships and new budding love interest to the test.
Release Date:
The film was released by Paramount and is showing in the UK from the 15th March 2019. The movie has a cast of familiar faces, Aldis Hodge (Hidden Figures), Tracy Morgan (30 Rock) and Erykah Badu (The Cider House Rules) who plays the afore-mentioned psychic.
https://www.paramount.com/movies/what-men-want
Tweet
Browse Our Blog
Categories
Latest Posts