Psychic Blog
Sony Pictures presents: I Wanna Dance with Somebody
23 Dec 2022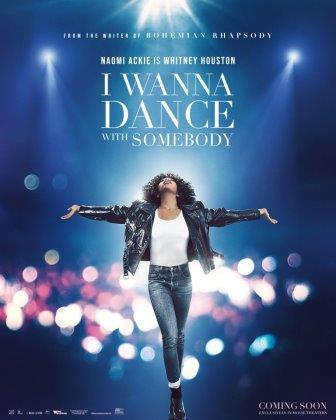 *Image courtesy of Sony Pictures.
Sony is bringing the rise and ultimate fall from grace story of Whitney Houston to cinema screens. The script was written; by the same person who wrote Bohemian Rhapsody. Sony has described I Wanna Dance with Somebody as a "no-holds-barred portrait of the complex and multifaceted woman behind The Voice." Only time will tell whether the story is one cinema-goers will enjoy and deserve to see; or whether it has been produced purely as a money-maker!
Music
Even if you think you are not that familiar with Whitney Houston's songs, background and career – the chances are some of it has slipped into your psyche.
Arguably, Whitney's biggest songs are the film title – I Wanna Dance with Somebody, and then Greatest Love of All and I Have Nothing. Whitney was a 1980s success story, her self-titled album debuted in 1985, and two 'number 1's' followed – 'Whitney' and 'I'm Your Baby Tonight'.
Houston also made a name for herself acting, most notably alongside Kevin Costner in 'The Bodyguard'. Although the film; was not well received by critics – her fans loved it, and it was a big commercial success.
Personal Life
Like many stars, her personal life was troubled – in the early years, rumours of a lesbian relationship nearly derailed her success. Ironically, she would later become a gay icon and an AIDS activist. In 2019 – Robyn Crawford confirmed in her memoir that they had been in a relationship.
However, the relationship that Whitney was known for was her marriage to fellow singer – Bobby Brown. Their union frequently made headlines, with abuse, infidelity and drug use getting top billing!
Whitney had 57 singles as a solo artist, but tragically, her life was cut short at 48 years old; from an overdose. She left behind her daughter – Bobbi Kristina Brown, who was just 18 years old; at the time.
Star
Naomi Ackie plays Whitney Houston in the film. You might recognise her from Doctor Who, Star Wars or Master of None. Clive Davis who was Whitney's producer and friend, is played by Stanley Tucci. Tamara Tunie, who you may know from her long run, on Law & Order SVU, playing Melinda Warner (Medical Examiner), plays the part of Whitney's mother – Cissy Houston.
Family
It's been reported that the family of Whitney Houston have been heavily involved in the films making process. What we do know; is that straight from the off, the story is heart-breaking – so bring your tissues!
Trailer:
The film will have a late December release in UK cinemas; in the meantime, here is the trailer:
www.iwannadancewithsomebody.movie/videos/
Tweet
Browse Our Blog
Categories
Latest Posts