Psychic Blog
Podcasts
24 Apr 2019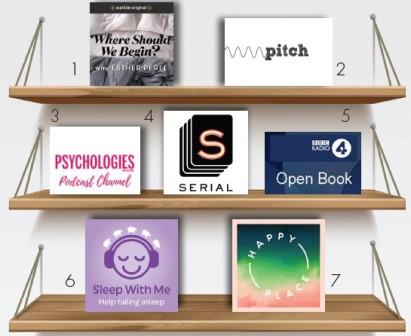 What are Podcasts
A Podcast can be something that has been specifically recorded for people to download, or it may be a recording of something that has already aired like a radio programme.
How to Access
You can download an app – Apple Podcasts for iPhone and similar Apple products, or Google Podcasts for Android phones and devices.
You can also download the 'BBC Sounds' app (which replaces iPlayer Radio) www.bbc.co.uk/sounds/help/find-podcasts
Most Podcasts are available free, some may use the word – 'subscribe', if in doubt check whether this means the content is chargeable, or just a way of notifying you when something becomes available.
In many cases you can access the Podcasts from a computer, by going to a website.
What can you Download?
Pretty much every topic you can imagine is covered, whether you like 'thrillers', are looking for advice on raising children, managing your money, cooking tips and more. The world is your oyster – literally!
Ideas to get you Started:
If you are interested in relationships – then why not try Esther Perel's Podcast "Where Should We Begin", as a psychotherapist she talks to couples and explores what works and what doesn't as well as all of the hot topics like infidelity…
https://www.estherperel.com/podcast
If you want to explore more about yourself in 2019, then why not turn to Psychologies Magazine Podcast Channel.
https://www.psychologies.co.uk/ukcp-and-psychologies-podcast-series
For book lovers, you could try Radio 4 – Open Book, hosted by Mariella Frostrup, this Podcast explores old classics, as well as new books – fiction & non-fiction, including discussions with both publishers and authors.
https://www.bbc.co.uk/programmes/b006qp6p
For those who love Music, Amazon's audiobook service called Audible, advised that one of the top Podcasts for 2018 was Pitch. Each cast is 25 minutes, and there are nine in total exploring music from classical to punk. It's not just about the history but also how music connects us and how we feel when listening to it.
More Ideas…
Another thing that audiences don't seem to be able to get enough of, is crime – but real crime, as opposed to made up stories. If this interests you, then join over 250 million listeners and tune in to SERIAL.
Fearne Cotton, has been honest about her mental health struggles in several books, and in her series of Podcasts: HAPPY PLACE, she talks to people like Zoe Sugg, Melanie C, Gok Wan, Emma Willis, Gary Barlow and more about their lives, covering life, love, loss and all topics in between – ultimately what does 'happiness' mean to them…
http://www.officialfearnecotton.com/news/2018/2/26/happy-place-podcast
If insomnia is a problem for you, then you might just want to try the cheekily named Podcast – 'Sleep With Me'! If your mind races with thoughts just as you are trying to drift off to sleep, or worries come to the fore just as you close your eyes, then a bedtime story could be what you need. With Sleep With Me, you get in to bed, press play, and gradually drift off, as the stories get more progressively boring… The reviews suggest that it really does work, and that it keeps on working.
https://www.sleepwithmepodcast.com/
Tweet
Browse Our Blog
Categories
Latest Posts