Psychic Blog
Ocean's Eight
21 Jun 2018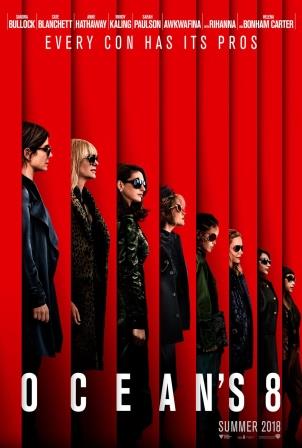 When I wrote this article newspapers and magazines were flooded with pictures of celebrities attending this years Met Gala, it wasn't without controversy this year as many people objected to the Catholic theme and subsequent attire that people dressed in.
Many of the cast of Ocean's Eight were in attendance, and of course the film centres around an impossible heist at the New York City's annual Met Gala. In fact, Rihanna who plays a part in the film was part hosting the real-life Met Gala alongside Donatella Versace and Amal Clooney (George Clooney's wife).
If you have seen Ocean's Eleven with Brad Pitt and George Clooney and the cast pulling off an impossible casino robbery, then you will be familiar with the theme that Ocean's Eight will take…
George Clooney played the character Danny Ocean, and in this new film Sandra Bullock plays his estranged sister – Debbie Ocean. Fresh out of jail but having had a lot of time to think about things Debbie has devised a plan to target a socialite (Anne Hathaway) that will be attending the Met Gala wearing a diamond necklace worth over $150 million. For the heist to be a success she needs a team, starting with Cate Blanchett (our cover star) as her right-hand women Lou-Miller.
The rest of the team are played by Mindy Kaling, Sarah Paulson, Awkwafina, Rihanna and Helena Bonham Carter, but there are also many other celebrity cameos sprinkled throughout the film, the crew includes a jeweller, a street con artist, a hacker, a fashion designer and a suburban Mum!
Ocean's Eleven spurned a trilogy of films and this movie will be produced by Steven Soderbergh who directed the others. Whilst the #metoo movement is still going strong, it was inevitable that the cast would get questions over why the film needed a predominantly female cast. But the cast has been quick to squash any man-hating rumours, this particular heist needed to be pulled off by women, just as the first three films were pulled off by a male crew. But there are plenty of men in the movie!
The films slogan is "Having this much fun is a crime," so let's hope watching the movie proves as much fun!
Oceans Eight is distributed by Warner Bros. Pictures and will be in UK cinemas from 22nd June 2018. http://www.oceans8movie.com/
Tweet
Browse Our Blog
Categories
Latest Posts