Psychic Blog
Wrapping Presents: Nature Inspired
20 Dec 2021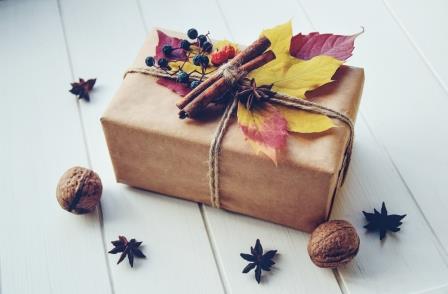 I'm one of those people that loves gift wrapping, or at least the embellishment part if not the actually wrapping up of oddly shaped presents! But by December there tends to be glitter everywhere… Often I buy lovely present toppers only to find that they don't go with the paper or tags.
If you feel the same, and want to simplify the process for all gifts this year, then why not try bringing in elements of nature to create bespoke and personalised wrapping for each person you are gifting too.
It's a lot easier than you might imagine, and you may be surprised by what you can collect up and use from your garden and home.
The wrapping
Brown Paper*
String
Tape
Ribbon
Toppings
Cinnamon Sticks
Pine Cones
Crab Apples/Berries
Evergreens
Twigs
Herb Sprigs like Rosemary
Seed Heads
Holly
Nuts
Spices like – Star Anise
Mistletoe
Of course, you can also utilise anything you already have in stock like plain parcel gift tags, buttons, bells, even fancy paperclips can help you secure things to the present and so on…
The Process
Start by wrapping the present in the brown paper, secure with tape.
Choose an adornment, like a sprig of holly.
Secure the present topper with plain string or ribbon from your stock.
Select a gift card – write the tag and secure just under the decoration.
Taking the time and effort to personalise present wrapping in this way, can really add to the gift and let the recipient know just how much you care about them.
*Check with your local council – many allow you to recycle brown paper – sometimes it goes out with card, as opposed to paper. Wrapping paper, especially those with glitter, that are plastic coated (i.e. will not scrunch up) or with tape still attached cannot be recycled.
Tweet
Browse Our Blog
Categories
Latest Posts