Psychic Blog
Larimar Crystal
21 Oct 2022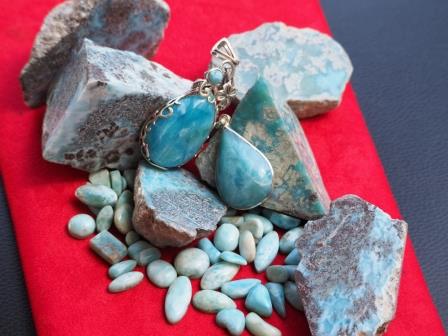 Have you heard of the Larimar crystal? This crystal is sometimes referred to as Dolphin Stone or Blue Pectolite. It is popular for promoting tranquillity and for its work as a spiritual stone, radiating peace and love.
Emotions
If you would like to encourage a more 'go with the flow' energy into your life, then Larimar could be the crystal for you. When working with this gem you should feel more creative, balanced and calm. Larimar brings about a sense of clarity and induces constructive thoughts. Rather than swinging from one emotion to the next, you should feel like equilibrium has been restored.
Earth-Healing
Larimar is a particularly good stone for women to work with, especially if they would like to tune into their feminine side and connect with nature. This earth-healing crystal unites with the energy of the Earth Goddess. You can place Larimar on the floor whenever you need to feel more grounded and connected to Earth.
Spiritual
On a spiritual level, one of the best ways to use Larimar is for communication with angels and other realms. You should be able to achieve a higher meditative state when using this crystal, and you will feel empowering vibrations in your body & soul as you ask it to support guidance on your pathway.
Healing
There are many advantages in terms of crystal healing to incorporating Larimar into your routines, for example:
Highlights self-imposed blockages to moving forward.
Reduced self-sabotaging behaviours.
Helps to alleviate feelings of guilt and fear, especially around change.
Try placing Larimar on the third eye, solar plexus, throat and crown chakras – to encourage healing and recovery.
Relationships
If love is an area of concern, you can place a Larimar crystal over your heart. It will encourage self-healing, especially around any past-life relationships and romantic trauma. It is also surprisingly useful when you are seeking to find a soulmate!
Tweet
Browse Our Blog
Categories
Latest Posts