Psychic Blog
Here Today
3 Sep 2021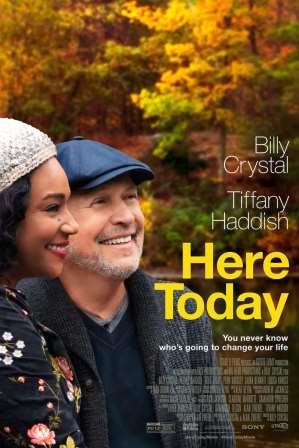 In 'Here Today' Billy Crystal plays character Charlie Burnz, who is a veteran comedy writer. In the trailer you see him meet Emma Payge – a New York singer, played by Tiffany Haddish. Charlie believes that Emma has bid and won a meal with him from an auction, that is true – but she has no idea who he is, turns out she just bid as her ex liked him! To add further insult to injury, she paid just the princely sum of $22…
Despite this rocky start (including an incident with a seafood allergy, an epi pen and a hospital visit), Emma and Charlie forge a sort of soul-mate relationship. The film charts their deep bond, that bellies the generation age gap between them, and redefines what trust, love and friendship mean along the way.
I don't want to give too much away, although you could guess from the trailer, but the film deals with a sensitive health matter, one that will be close to many of our hearts. But, as you might expect from a Billy Crystal movie, this film is a comedy. Variety describes it as a 'watchable movie with a soft centre.'
The Here Today Cast:
Sharon Stone makes an appearance as herself, Charlie's Doctor is played by Anna Deavere Smith. Louisa Krause plays Charlie's late wife, who we see in flashbacks and Penn Badgley and Laura Benanti depict his children.
If you enjoy watching Tiffany Haddish, then you can next see her in Paul Schrader's "The Card Counter" alongside Oscar Isaac and Tye Sheridan. She has also been picked to play the great Olympian – Florence Griffith Joyner in a biopic film.
When can we see Here Today
As sometimes happens in film, this movie was released in the US first on the 7th May 21 by Stag 6 Films. But Sony Pictures will not have a cinema theatrical release in the UK until the 3rd of September 2021. Here Today is co-produced by Astute Films, Crystal's Face Productions and Big Head Productions.
Edinburgh Film Festival:
Here Today has been chosen to close the Edinburgh International Film Festival (EIFF), which takes place between the 18th and 25th August 2021. It is the 74th festival, and despite Covid there will be in-person screenings across Edinburgh and Scotland, but virtual streaming will also be offered by Filmhouse at Home.
Billie Crystal was pleased that people could have a proper cinema experience once more: "To have an audience sit inside a cinema together and share the experience of this film after these unusual times makes me very happy."
Trailer:
Tweet
Browse Our Blog
Categories
Latest Posts