Psychic Blog
Feng Shui
20 Mar 2015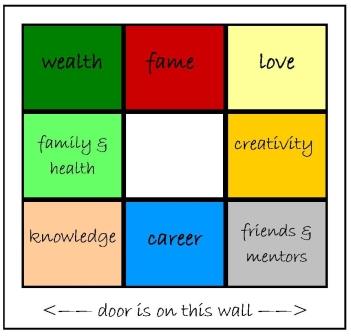 Feng Shui is a Chinese philosophy, harmonising the relationship between humans and their environment. For centuries the Chinese have used Feng Shui techniques to ensure the flow of energy is enhanced, in turn creating good fortune.
One simple way to get to grips with Feng Shui is via a Pa Kua Grid (see image). Place the grid over a given area and it shows the negative or missing spaces that need solving.
For example if your bathroom is in the wealth area, then you could be losing money down the drain. To counteract this you could use objects or colours in the space, such as a round leaf plant (wealth colour – green).
Other examples could be:
In your creative area – place a plant, which could mean the growth of ideas.
In your career area – place a picture of a mountain, to represent aiming high.
You could place photos or notes from a friend or colleague in your mentor area, to remind you of their support.
Something as simple as a packet of plasters placed in a love area could represent your desire to patch up an argument with a loved one.
The space you live and work in has an impact on how you feel and how you thrive. Applying simple Feng Shui or Pa Kua techniques in your environment may make it a happier and more creative place for you to live and work.
This is a very basic introduction to one aspect of Feng Shui, designed to show you that simple changes in and around your home can have a major impact on your well-being and in making your relationships more harmonious.
For psychic advice and guidance on how to make changes in your life, why not speak to one of our psychic readers. Many of our clairvoyants are spiritual healers and can offer all sorts of intuition on your home life and surroundings.
Tweet
Browse Our Blog
Categories
Latest Posts