Psychic Blog
Flowers to Grow and Eat
3 Mar 2021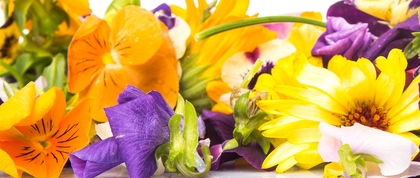 Edible flowers have been growing in popularity. They are great as a way to make a meal or cake look even more beautiful and taste delicious. Supermarkets have been quick to notice the trend. They and now selling flowers ready prepared for you to add to your baking and cooking. But, if you fancy growing your own, or just want to know what is and is not safe to eat – then read on…
Borage
If you want to get started in the autumn then Borage is a great plant to think about, you can sow seeds directly into soil at this time of year and they will flower from spring. Just be aware that it can happily self-seed, and so may crop up elsewhere! Borage has a lovely blue (sometimes white), star shaped flower – both the leaves and flower are supposed to have a cucumber style flavour. Use them as part of a salad, or amongst fruit in cocktails like Pimm's.
Geraniums
The proper name for Geraniums is actually Pelargoniums and the different varieties are endless! With this plant the scent is actually in the leaf. A good option to start is a Rose Geranium; you can buy young plants in garden centres, but do bring them inside for the winter months as they are not frost hardy. You could use the leaves by infusing a sugar syrup mixture with the leaves (equal parts water & sugar – gently simmered to dissolve the sugar – then add the leaves at the end to infuse the mix with flavour). Why not try using the syrup as a cake drizzle, to add flavour to ice cream or even as a cocktail mixer.
Marigold Flowers
You can purchase a pot Marigold (Calendula officinalis) from your garden centre or grow from seed in spring. Stay away from French Marigolds and African Marigolds as these are not edible varieties. Most common is an orange colour – that is striking when used in fruit salads or regular salads. But often it is used as a substitute for saffron in dishes like soups and paella. It has a peppery flavour and can be made into a paste with butter or oil.
Nasturtiums
As edible flowers go, you can't go wrong with Nasturtiums as every part of the plant is edible. Grown in your garden they will attract much needed insects. The cheapest option is to sow from seed after the last frosts, in a pot or in the ground – but again they do self-seed. You can deep-fry the leaves like you would courgette flowers or make a Nasturtium butter and use to flavour fish or potatoes. The flowers look lovely against mixed salad leaves.
Violet Flowers
For bakers violets are one of the prettiest flowers to grow and use as decorations. They can be sown in seed trays from February, so you get a lovely purple, cream and yellow flower. To use as cake decorations the best option is to crystallise the flower:
Separate an egg, and use just the white – whisk until foamy.
For extra flavour – whisk in half a teaspoon of Vodka.
You need to coat the flower in the mixture, you may be able to dip larger blooms, for more delicate flowers try holding with tweezers and painting the mixture on with an art brush.
Then place some caster sugar in a sieve and sprinkle over the covered flowers so they have a light dusting.
Leave to dry on baking parchment and use to decorate your cakes.
Tweet
Browse Our Blog
Categories
Latest Posts