Psychic Blog
Eating for a Healthy Weight, Immunity and Wellbeing
26 Jan 2021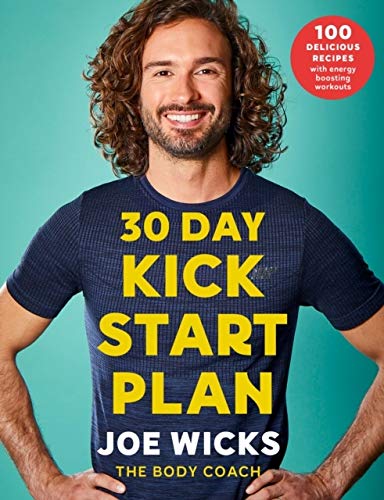 2020 was a tough year, and many indulged in comfort foods and drink as a way of getting through, and our weight increased! The other side to this, is that health-professionals have been warning of the danger in not staying healthy and carrying excess weight as risk factors to falling more poorly with coronavirus.
Diet, Weight & Exercise
Despite these health warnings, many people will have celebrated Christmas with gusto, wanting to send 2020 out with a bang. But that means many will be walking into the New Year with a bit of 'buyers remorse' on the health front…
If, losing weight, or just having a more balanced approach to what you eat & drink in 2021 is chiming with you as a good New Year's resolution.
Then read on for some popular books to help you get started…
30 Day Kick Start Plan: 100 Delicious Recipes with Energy Boosting
By Joe Wicks
If you are lacking motivation, but aren't really sure how to get going changing your diet or exercise regime – then this book is for you! Joe Wicks creates a 30-day plan for you to follow, covering food and fitness with helpful new ways to create long-term healthy habits.
Pinch of Nom Quick & Easy: 100 Delicious, Slimming Recipes
By Kay Featherstone and Kate Allinson
Cook books are often great to look through, but somewhat daunting when the ingredient list is 10+ items long and filled with unusual or never-heard-of food! Pinch of Nom specialises in recipes that are quick and easy, using your normal store cupboard ingredients. They cover one-pot meals for days when you want less washing up, big-batch meals for when you want to get ahead and even 4-ingredient meals. As a bonus the recipes fit into many well-known diet programmes.
The Fast 800 Easy: Delicious simple recipes for intermittent fasting and long-term health
By Dr Claire Bailey and Justine Pattison
This is a follow up recipe book, to the Fast 800 diet and recipe books. With one eye on minimum fuss in the kitchen, both in terms of ingredients and time. In fact, all of the recipes have just 10 ingredients or less. But without sacrificing on flavour or the low-carb Mediterranean approach the diet favours.
Here are more great book options…
Feel Great Lose Weight: Long term, simple habits for lasting and sustainable weight loss
As a GP, Dr Rangan is well versed in the dangers around quick-fix diets. His book focuses on a long-term approach, that gradually changes bad habits. Along the way, he helps you to understand the real cause of your weight gain and any eating issues, so that you can banish dieting for good, bringing in a new healthy regime instead.
Eat Better Forever: 7 Ways to Transform Your Diet
By Hugh Fearnley-Whittingstall
This new book from Hugh has over 100 recipes, but also 7 simple strategies for transforming both your health and diet for the long-term. The book does delve into processed and junk foods, and the obesity crisis and how we can turn this around for permanent healthy eating habits.
The 28-Day Immunity Plan: A vital food and fitness plan to boost resilience and protect your health
By Rosemary Conley and Mary Morris
Never before has immunity been at the forefront of our minds, Rosemary's book looks at how to improve ours with a 28-day plan. The book provides practical advice as well as delicious recipes, helping you to lose excess weight, boost your immune system and generally live a healthier lifestyle.
Tweet
Browse Our Blog
Categories
Latest Posts