Psychic Blog
Christmas Aromas & Seasonal Offer
12 Dec 2019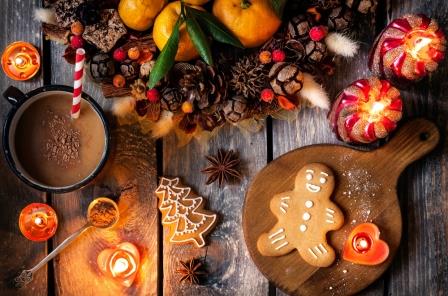 We would like to wish all of our customers a Happy Christmas and a Healthy and Prosperous New Year!
By way of a thank you for your loyalty, we have a special credit card offer for December 2019.
The Offer:
£15 for a 10-minute Credit Card Reading.
Call:
Dial freephone: 0808 156 4933 & quote: 'MISTLETOE'.
Terms:
Any follow-on minutes will be charged at the normal rate of £1.50 per minute.
You can use the discount code as many times as you like during the offer period (1st – 31st December 2019).
You can access the offer between the hours of 9am-midnight. At all other times the cost will revert to normal: £32.95 for the first 20 minutes, and £1.50 per minute thereafter.
Christmas Aromas
There is no doubt that the Christmas season, can send our five senses into overload. There is literally so much to see, hear, touch, taste… So, why not let one of the senses – smell, sooth the way for a calmer and more relaxing festive period.
You can literally bring the scent of Christmas into your home, through nature, decorations, cooking, baking, drinks, candles, essential oils and more.
I'm sure you will have favourite fragrances, that really say Christmas to you. But here are a few suggestions to get you started, along with some of the well-being benefits they can bring.
Take from baking:
Vanilla – Wonderfully calming.
Cinnamon – Energising.
Ginger – Aids digestion.
Nutmeg – Mood improver.
From cooking:
Citrus – Lemons, satsumas, mandarins, clementine's, oranges – Revitalising, reduces anxiety, makes us cheerier.
Cloves – Provides comfort.
Rosemary – Sharpens the mind.
Sage – An overall elixir of good health!
Drink inspired:
Peppermint – Clears the mind and helps digestion.
Hot Chocolate – Rich in flavonoids, can boost your immune system.
Bringing Outside In:
Fir – Relaxing and grounding.
Pines – Good for respiratory health.
Cedars – Great for insomnia due to its sedative qualities.
From Christmas itself:
Frankincense – Eases nervous energy.
Myrrh – Calms the soul.
Other familiar scents might be: Roasting chestnuts, mulled wine brewing, a roaring fire, Christmas cake fruits soaking… What aromas do your Christmas traditions have?
Tweet
Browse Our Blog
Categories
Latest Posts