Psychic Blog
Celebrities and Crystals
5 Apr 2018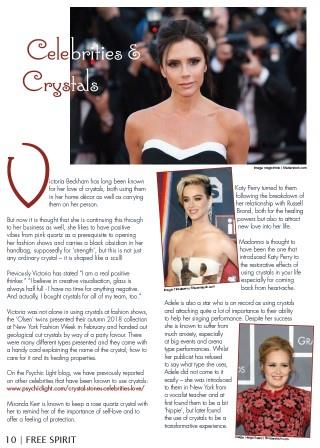 Victoria Beckham has long been known for her love of crystals, both using them in her home décor as well as carrying them on her person.
But now it is thought that she is continuing this through to her business as well, she likes to have positive vibes from pink quartz as a prerequisite to opening her fashion shows and carries a black obsidian in her handbag, supposedly for 'strength', but this is not just any ordinary crystal – it is shaped like a scull!
Previously Victoria has stated "I am a real positive thinker." "I believe in creative visualisation, glass is always half full – I have no time for anything negative. And actually, I bought crystals for all of my team, too."
Victoria was not alone in using crystals at fashion shows, the 'Olsen' twins presented their autumn 2018 collection at New York Fashion Week in February and handed out geological cut crystals by way of a party favour. There were many different types presented and they came with a handy card explaining the name of the crystal, how to care for it and its healing properties.
Miranda Kerr is known to keep a rose quartz crystal with her to remind her of the importance of self-love and to offer a feeling of protection.
Katy Perry turned to them following the breakdown of her relationship with Russell Brand, both for the healing powers but also to attract new love into her life.
Madonna is thought to have been the one that introduced Katy Perry to the restorative effects of using crystals in your life especially for coming back from heart-ache.
Adele is also a star who is on record as using crystals and attaching quite a lot of importance to their ability to help her singing performance. Despite her success she is known to suffer from much anxiety, especially at big events and arena type performances. Whilst her publicist has refused to say what type she uses, Adele did not come to it easily – she was introduced to them in New York from a vocalist teacher and at first found them to be a bit 'hippie', but later found the use of crystals to be a transformative experience.
Tweet
Browse Our Blog
Categories
Latest Posts