Psychic Blog
Christmas Card & Offer
10 Dec 2020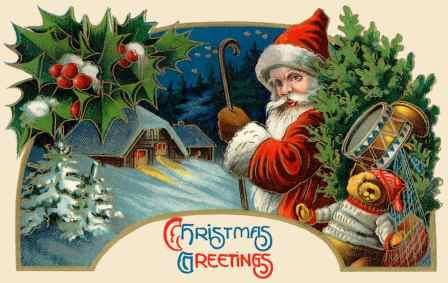 In recent years, there has been a steady decline in people buying and sending physical Christmas cards, with many choosing to send a Christmas Card in the form of an e-card instead. Of course, there is nothing wrong with a digital card, and for those far afield it can be a lot simpler than working out final postage dates. But I bet you would be hard pushed to find anyone that finds as much joy in an electronic seasonal greeting, as getting a proper card through the post.
Before cards were even thought of, etchings would have been carved into wood, depicting religious scenes. Now, that's what you call labour intensive and time consuming! We had to wait for the Victorians to make it a little easier, when they started sending cards to family and loved ones at Christmas.
First Christmas Card
Documentation suggests that one of the first people to produce many cards, was Sir Henry Cole in 1843. He was an inventor and British Civil Servant. His card was designed by John Callcott Horsley, who was an artist, painter and illustrator. Cole actually had 1000 cards printed, sending many to friends and selling the rest for charity.
It was probably a good forty years later before sending cards for the masses became accessible, as a result of more affordable postage costs. It is estimated that in 1880 11.5 million cards were produced. According to the Greeting Card Association in 2017 nearly 100 million single Christmas cards were sold, and a further 900 million were sold via boxes/packs.
Physical versus Virtual Cards
It will be really interesting to see if the pandemic this year, has an impact on people sending physical over virtual cards. With many of us not having seen each other for weeks and months at a time, it has provided a new appreciation for our loved ones, families and friends.
Along with the trend of sending cards, was that of the accompanying 'Round Robin' letter. A phrase borrowed from America, to describe a letter one sends describing the events of the year for their family. Of course, making this year sound interesting won't be an easy task: holiday cancelled, juggled working from home, home-schooling children etc, but also built a shed, took up baking and drank a lot!
The Rule of 6, and the tiered lock down procedures (as it stands as I write this), will prevent many of the usual parties, meals and get-to-gethers that the holiday season would bring. So, perhaps now more than ever is the time to put pen to paper!
December Offer
Don't forget that our Special Offer is up and running.
Throughout December 2020 a 20-minute credit card reading will cost just £27.95
Saving you £5.00 on every call!
To use the offer, call Freephone: 0808 156 4933 & Quote 'Christmas Spirit'
You can use the discount code as many times as you like during the offer period.
The offer is available 9am – Midnight until 31st December 2020. £27.95 for the first 20 minutes, £1.50 per minute thereafter. At all other times the cost will revert to normal: £32.95 for the first 20 minutes, £1.50 per minute thereafter. All calls are recorded. Readings are for entertainment only. 18+ or over. Customer Care: 0808 156 0022.
Tweet
Browse Our Blog
Categories
Latest Posts