Psychic Blog
What would your Valentine's Mixed Tape Be?
9 Feb 2017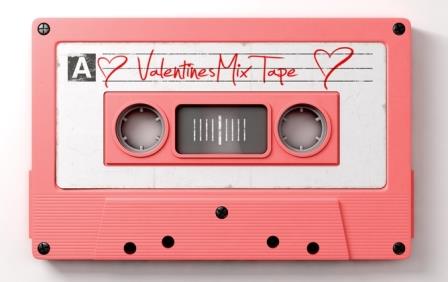 Music is a very powerful thing, I think most of us at some point will have been caught off guard by memories of a time, place or person that come flooding back as a result of hearing a specific song or piece of music…
Music is incredibly personal, and autobiographical to some extent, we are likely to associate popular music with key events in our life – starting college, a song played at our wedding, what was playing on the radio when we received sad news etc.
Very often it would be very popular songs of the time that we would evoke strong reactions down the line, and that is because they would have been played everywhere – on the radio, in bars, café's etc., so they form a background to that time in your life. But often the more distance you have between hearing it again, the stronger your reaction is likely to be.
So, turning to Valentine's if you were making a metaphorical 'mixed tape', what would you put in your top 10 love songs? Much of this might depend on your age, whether you are in a relationship or are single, have recently suffered heartbreak and so on…
Here are some different takes on the top songs:
Billboard: Top 50 Love Songs of All Time (Below is the top 10) – based on chart success
1 – "Endless Love" Diana Ross & Lionel Richie Hot 100 Peak: No. 1 for nine weeks (1981)
2 – "I'll Make Love to You" – Boyz II Men Hot 100 Peak: No. 1 for 14 weeks (1994)
3 – "We Found Love" – Rihanna feat. Calvin Harris Hot 100 Peak: No. 1 for 10 weeks (2011)
4 – "How Deep Is Your Love," Bee Gees Hot 100 Peak: No. 1 for three weeks (1977)
5 – "Silly Love Songs" – Wings Hot 100 Peak: No. 1 for five weeks (1976)
6 – "I Will Always Love You" – Whitney Houston Hot 100 Peak: No. 1 for 14 weeks (1992)
7 – "Let Me Love You" – Mario Hot 100 Peak: No. 1 for nine weeks (2005)
8 – "Because I Love You (The Postman Song)" -Stevie B Hot 100 Peak: No. 1 for four weeks (1990)
9 – "Best of My Love" – The Emotions Hot 100 Peak: No. 1 for five weeks (1977)
"I Can't Stop Loving You" – Ray Charles Hot 100 Peak: No. 1 for five weeks (1962)
Telegraph: 100 best love songs of all time (Below is the top 15):
1 – God Only Knows: Beach Boys
2 – Crazy Love: Van Morrison
3 – Nothing Compares 2 U: Sinead O'Connor
4 – Hyperballad: Bjork
5 – Something: The Beatles
6 – First Time Ever I Saw Your Face: Roberta Flack
7 – Make You Feel My Love: Adele (Originally written by Bob Dylan)
8 – You And Me Song: The Wannadies
9 – Because the Night: Patti Smith (Originally written by Springsteen)
10 – Thinking of You: Sister Sledge
11 – Heatbeats: The Knife
12 – Missing: Everything But the Girl
13 – Lego House: Ed Sheeran
14 – How Deep is Your Love: Bee Gees
15 – Something Changed: Pulp
This time last year the 'Official Charts' put together the 20 biggest selling love ballads of all time, and it looks like this:
| | | | |
| --- | --- | --- | --- |
| | TRACK | ARTIST | YEAR |
| 1 |   LOVE IS ALL AROUND | WET WET WET | 1994 |
| 2 |   UNCHAINED MELODY | ROBSON GREEN & JEROME FLYNN | 1995 |
| 3 |   EVERYTHING I DO | BRYAN ADAMS | 1991 |
| 4 |   ANYTHING IS POSSIBLE | WILL YOUNG | 2002 |
| 5 |   I WILL ALWAYS LOVE YOU | WHITNEY HOUSTON | 1992 |
| 6 |   MY HEART WILL GO ON | CELINE DION | 1998 |
| 7 |   THE POWER OF LOVE | JENNIFER RUSH | 1985 |
| 8 |   UNCHAINED MELODY | GARETH GATES | 2002 |
| 9 |   JUST THE WAY YOU ARE | BRUNO MARS | 2010 |
| 10 |   ANGELS | ROBBIE WILLIAMS | 1997 |
| 11 |   ALL OF ME | JOHN LEGEND | 2014 |
| 12 |   DON'T GIVE UP ON US | DAVID SOUL | 1976 |
| 13 |   I DON'T WANT TO MISS A THING | AEROSMITH | 1998 |
| 14 |   NO MATTER WHAT | BOYZONE | 1998 |
| 15 |   THINKING OUT LOUD | ED SHEERAN | 2014 |
| 16 |   2 BECOME 1 | SPICE GIRLS | 1996 |
| 17 |   CHASING CARS | SNOW PATROL | 2006 |
| 18 |   BACK FOR GOOD | TAKE THAT | 1995 |
| 19 |   RULE THE WORLD | TAKE THAT | 2007 |
| 20 |   HERO | ENRIQUE IGLESIAS | 2002 |
Happy listening – Happy Valentine's
Tweet
Browse Our Blog
Categories
Latest Posts