Psychic Blog
Ribbon Reading - Part 1
8 Apr 2016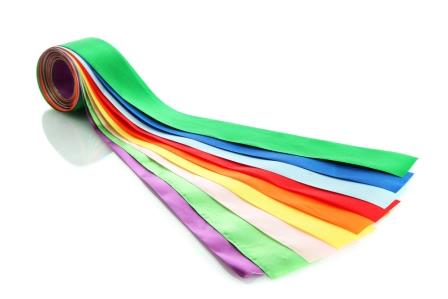 Every now and again it is a great idea to mix things up, the next time you have a reading why not choose Paula (PIN: 5454) and ask her to give you a 'Ribbon Reading'! Paula has a great connection to colour and what it can mean for a client's future, she has written articles in the past for this magazine on how to embrace colour for the best outcomes for you.
Generally speaking a reader will lay out a number of different coloured ribbons – 12 for example. These may be plain in colour – blue, pink, red etc., but some may have patterns – stripes or dots. As a client you would think of a question that you need answering and then focus on the ribbons – tell the reader which one you are instinctively drawn too in that minute. The reader will advise you what that means in relation to your question.
For a more general reading, a psychic medium may ask you to pick several ribbons that appeal to you – for example 6 ribbons and they will advise what your selections mean for you in day to day terms. For example:
Silver:
You like a bit of luxury in life. You are drawn to understand more about your past and family tree. History interests you. As a child – you may have been told 'you have an old head on young shoulders'.
Stripes:
You are organised. Your life is not always in balance – this may be because of your perfectionist tendencies. Sometimes you get low on patience – remember your priorities will not always align with others.
Blue:
Blue is a spiritual colour – you are a born healer, if you have not already done so think about ways you can channel this ability. You are very sensitive to those around you; this is your natural psychic ability at play.
Red:
Perhaps as a child you were 'told the grass is not always greener' – but you are not quite ready to give up on that belief yet! A happy home and family are important to you and you know material possessions are not everything, but a spiritual side to your life is missing at this time.
Come back to the blog for Part 2 where we explore the meaning of more colours…
Tweet
Browse Our Blog
Categories
Latest Posts